Phoenix client
This is a project to develop a viable clone of AIM 5.x for use with newer
versions of windows, this is only a pre-release for testing purposes.
It is only currently capable of sending and receiving messages,
chat, and buddy list management.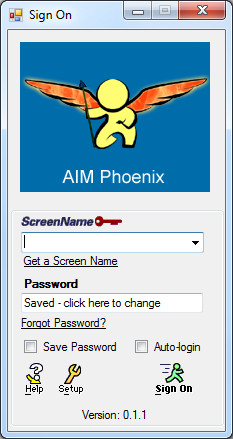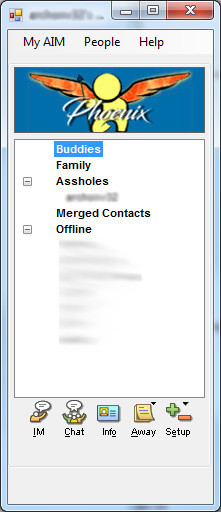 Version 0.5.8 - Release: 8/19/2018
Version 0.6.13 - Testing, added SecureIM

Phoenix Desktop 1.0 (Alpha)
A re-implementation of AOL Desktop with a new elegant protocol and support for modern web conventions. This is an ALPHA release, it is intended for debugging and for content developers to begin developing content for the platform. Not all features are implemented as of yet.
Version 1.0.1 (Alpha)


Phoenix Go
An new mobile client, still very very early stage. compatible with Android 4.4+
iOS version? uhh let's see how much of a nightmare it is to develop for iOS....





Version 0.1.2 - Release: 3/31/2019
Version 0.1.3 - Release: 6/18/2021